Good ID supports multiple development goals
Why does the identity gap ID matter? Inclusive and trusted—i.e., "good"—ID systems are crucial tools for achieving sustainable development, including the World Bank Group's twin goals of ending extreme poverty and boosting shared prosperity. For this reason, ensuring that everyone has access to identification is the explicit objective of Sustainable Development Goal (SDG) Target 16.9—to "provide legal identity for all, including birth registration" by 2030.
Furthermore, identification is also a key enabler or contributor to many other SDG targets, such as financial and economic inclusion, social protection, healthcare and education for all, gender equality, child protection, agriculture, good governance, and safe and orderly migration (see Box 1). For these reasons, identification is widely-recognized as being instrumental to realizing the SDG promise to "leave no one behind."
Box 1. Identity is instrumental for multiple SDGs
In addition to SDG Target 16.9, the ability of individuals to prove their identity—and the ability of service providers to identify beneficiaries and customers—is either a direct or indirect enabler of many other SDGs. For example, ID is either essential or helpful for achieving many of the goals and targets related to:
Access to finance
Satisfy know-your-customer (KYC) requirements for banking — Goal 1 and Target 1.4

Provide a unique ID for credit registries — Targets 1.4 and 8.3

Improve integrity and reduce the costs of remittance transfers — Target 10c

Prove ownership over property — Goal 1 and Target 1.4

Improve land access and targeted services for small-holder farmers — Target 2.3
Gender equality and empowerment
Full participation in economic and social life — Goal 5

Equal access to economic and financial resources — Target 5a

Enhancing the use of technology for empowerment — Target 5b

Eliminating trafficking of women and girls — Target 5.2
Access to basic health and education services
Unique ID for health insurance — Target 3.8

Tracking of TB and HIV/AIDs treatment — Target 3.3

End preventable deaths of newborns via CR health data — Target 3.2

Higher childhood vaccination rates — Goal 3 and Target 3.3

Registration and school exams — Goal 4
Child protection
Help eliminate child labor through proof of age — Target 8.7

Help end child marriage through proof of age — Target 5.3
Migration and labor market opportunities
Reduce transaction costs in hiring — Goal 8 and Target 8.5

Facilitate safe and responsible migration and mobility — Goal 10 and Target 10.7
Improved access and quality of social protection
Improve targeting, timeliness, cost-effectiveness of payments — Goal 1 and Target 1.3

Improve transparency and reduce leakage — Target 1.3

Facilitate fast and efficient delivery of emergency aid — Target 1.5

Phase out harmful fuel subsidies by moving to direct cash payments — Target 12c
Governance
Remove ghost workers and generate public savings — Goal 16 and Target 16.5

Widen tax base and reduce tax fraud — Target 17.1

Clean voter registry and reduce voter impersonation—Target 16.7
Source: Adapted from Gelb and Diofasi (2018), Chapter 3, and The Role of Identification in the Post-2015 Development Agenda Digital Identity
Inclusive and trusted ID systems can help achieve these goals by:
Empowering individuals and enhancing their access to rights, services, and the formal economy. With proof of identity, individuals are empowered to access basic financial, health, and social services for which identification is often a prerequisite (see Box 1). The ability to prove your identity or particular attributes (e.g., age) is also essential to accessing key rights, such as voting and the prevention of child marriage, as well as economic opportunities such as labor mobility, formal employment, and property rights. These opportunities and protections are particularly necessary for vulnerable populations who are also least likely to have proof of identity, including those living in poverty, marginalized women and girls, inhabitants of rural and remote areas, refugees, stateless populations, and migrants.

Strengthening the transparency, efficiency, and effectiveness of governance and service delivery. Central to a government's ability to deliver services to its people—including education, healthcare, safety nets, pension payments, land registration, agricultural extension, and more—is knowledge of who those people are and relevant attributes (see Box 2). For governments, ID systems therefore play an important role in enhancing the capacity to ensure that government to person (G2P) transfers, such as cash transfers, wages, and subsidies, reach their intended beneficiaries, and are not subject to leakage or fraud. Digital ID systems can also improve services by creating a foundation on which to build new modes of delivery, including e-government and direct benefits transfers and increasing the overall efficiency of administration.

Supporting private sector development and service delivery. As in the public sector, private enterprises also have identification and authentication needs for their clients. For example, a bank's ability to offer services—such as opening a bank account or securing a loan—requires a certain knowledge about a prospective client's identity and the ability to ensure that they are interacting with the same person (and not an identity thief) over time. Trustworthy ID credentials can thus reduce operating costs for private firms associated with identity verification for regulatory compliance (e.g., know-your-customer or customer due diligence requirements), widen customer bases, generate new markets, and support a business-friendly environment more broadly.

Growing the digital economy. Given the fundamental need for secure and accurate online identification and authentication, digital ID and other trust services—such as e-signatures—form part of the core foundation or a "stack" needed for successful digital economies. When enabled by digital infrastructure that brings people and organizations online, digital ID and trust services can be leveraged by government and commercial platforms to facilitate a variety of digital transactions, including digital payments. Together, digital ID and payments platforms provide the means to move towards a cashless society, creating productivity gains, reducing corruption and fraud, and further improving user convenience.

Regional and global integration. With economies and societies becoming more integrated across the world, identification can accelerate these physical and digital connections. Physical or digital foundational IDs can be recognized as a travel document in lieu of a passport, which can streamline travel and make migration more accessible. Similarly, digital IDs issued by one country can be recognized by other countries, enabling trusted transactions to take place across borders (e.g. entering contracts or registering businesses), thereby boosting the economic and social inclusion of migrants and facilitating trade.

Generating reliable and continuous statistics to measure progress and inform policy. Civil and population registers are a critical administrative sources of demographics and vital statistics, which in turn provide essential evidence to support the ability of governments and the private sector to engage in long-term planning and policy making in areas such as public health and infrastructure. For example, civil registration—with inputs from the health sector—enables policymakers to monitor cause of death and maternal and infant mortality rates and to rapidly respond to epidemics (e.g., HIV/AIDS and non-communicable diseases).
Box 2. Spotlight on identification in social protection
When ID systems are weak, people may have difficulty proving who they are and/or their eligibility for social protection programs such as cash transfers, pensions, ration cards, social insurance, and other benefits. This problem is compounded by the fact that those most in need of this assistance are also those least likely to have an ID, including poor, rural, and marginalized people. Furthermore, if their ID is linked to a financial address to receive payments on any channel (e.g. bank accounts or mobile money), this facilitates interoperability, gives choice, and enhances convenience to beneficiaries in cases when they change their account or preferred payment mechanism.
In addition to the direct effect on individuals, weak systems for verifying a person's identity and/or particular attributes about them—e.g., household information, income, occupation, etc.—also create administrative inefficiencies and opportunities for fraud and leakage. For example:
A person may assume multiple identities (e.g., false or assumed names) when registering for benefits

A head of household may inflate the size of their family by "borrowing" children from other households during registration

When aid is in the form of guaranteed employment, a person who secures work may "outsource" that labor by selling it to another individual who performs the work in their place

In long-term programs, the death of a beneficiary may not be reported in a timely fashion, allowing others to continue collecting the deceased's benefits if there is no ongoing authentication or credential checking

People may collude with local officials to register fake or "ghost" beneficiaries to receive multiple or undeserved benefits if enrollment procedures or eligibility determinations can be manipulated

Without secure authentication mechanisms, fraudsters may be able to collect benefits by impersonating beneficiaries with or without their knowledge
Source: Adapted from the Digital Identity Toolkit
These benefits can increase substantially with the adoption of digital technology—including electronic databases and credentials, biometric recognition for automated deduplication of identity records and/or authentication, mobile devices and applications, and interoperability platforms (see Figure 2)—that improve the accuracy of identity data and increase the efficiency of identity verification and authentication. However, while ID systems can create opportunities to further development goals, they also present multiple important challenges and risks.
Figure 2. Building blocks of digital ID systems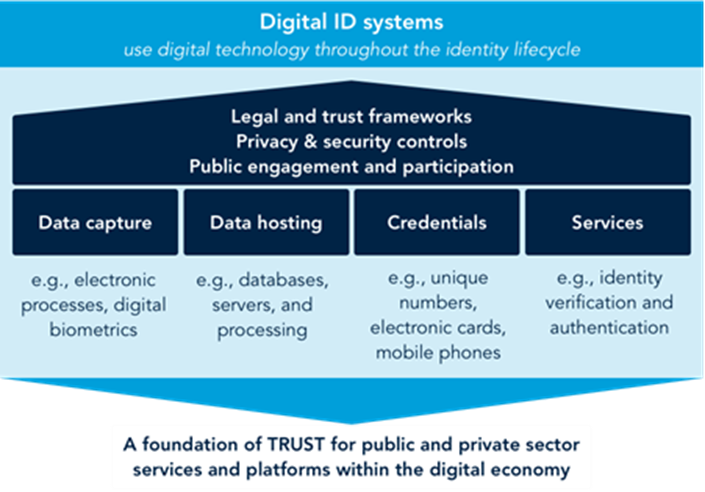 Source: Adapted from the Digital Identity Toolkit