Introduction
Building on existing international norms, the Principles were first developed and published in 2017 by a group of organizations committed to supporting the development of identification systems that are inclusive, trusted, accountable, and used to enhance people's lives and the achievement of the Sustainable Development Goals (SDGs). Given the quickly evolving nature of the identification sector, the original signatories to the Principles committed to revisiting them to incorporate new perspectives and lessons learned. This second edition released in 2021 reflects inputs from this process and broader public consultations.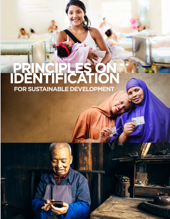 Principles
Pillar 1: Inclusion
Legal identity for all. Everyone should be able to prove their legal identity. Countries must fulfill their obligations and commitments to provide legal identification to all residents—not just citizens—from birth to death, as reflected in international and domestic laws. This includes the obligation of universal birth registration for all children, which is essential for providing proof of legal identity from birth, and the timely registration of other vital events, such as marriages and deaths. It also includes the obligations and commitments to provide proof of legal identity to refugees, stateless persons, and migrants who do not have a valid credential or cannot otherwise prove their legal identity.  
Nondiscrimination. All identification systems should be free from discrimination in policy, in practice, and by design. This includes ensuring that legal frameworks; requirements and procedures to register, obtain, or use identification; and the data that are collected or displayed on credentials do not enable or reinforce discrimination against particular groups, such as those who may face increased risks of exclusion for cultural, political, economic or other reasons. Such groups include people living in poverty; women; children; rural populations; racial, ethnic, linguistic, and religious minorities; persons with disabilities; sexual and gender minorities; migrants; asylum seekers, refugees, and the forcibly displaced; and stateless persons among others. Furthermore, identification systems and data should never be used as a tool for discrimination or to infringe on or deny individual or collective rights.  
Direct and indirect costs. Costs to the individual must never be a barrier to obtain identity credentials required to fulfill rights or access basic services or entitlements. For example, civil registration and the initial issuance of birth and death certificates and other legal identity credentials should be free of charge for the individual. If fees are charged for certain additional services (such as reissuance of lost credentials), rates should be reasonable, proportional to costs incurred, and transparent to the public. The indirect costs of obtaining identification—including fees for supporting documents, travel costs, and cumbersome administrative procedures— must also be minimized.  
Information asymmetries. Stakeholders must work to reduce information and knowledge barriers and disparities that might prevent individuals— such as linguistic minorities, people with low literacy levels, persons with disabilities, and others—from accessing or using identification and foster a culture of trust and accountability by increasing literacy and sensitization around the system. Information and education campaigns and other materials must be inclusive and accessible to ensure that everyone has the knowledge, capacity, and tools they need to participate in the identification system and exercise their rights to oversight and control. 
Technology gaps. While technology is a key enabler of identification systems, no one should be denied identification or associated services and rights because they lack mobile or internet connectivity, electronic devices, digital literacy or digital skills, the comfort or ability to use certain technology, or because of technology biases or failures. Stakeholders should therefore work together to ensure that identification and authentication services are available and usable for everyone, regardless of digital resources, skills, or connectivity. Furthermore, accessible exception-handling procedures and grievance redress mechanisms are necessary to avoid denial of services or rights and in the case of technical difficulties.  
Inclusion by design. Identification systems should prioritize the needs and address the concerns of marginalized and vulnerable groups who are most at risk of being excluded and who are the most in need of the protections and benefits identification can provide. This requires working with communities to proactively identify legal, procedural, social, and economic barriers faced by particular groups, risks and impacts specific to these groups, and adopting appropriate technologies and mitigation measures to ensure that new or updated identification systems do not reinforce or deepen existing inequalities.
Pillar 3: Governance
Legal and regulatory frameworks. Identification systems must be underpinned by legitimate, comprehensive, and enforceable legal and regulatory frameworks and strong policies that promote trust in the system; ensure data protection and privacy (including cybersecurity); mitigate abuse such as unauthorized surveillance in violation of due process; are free from discrimination and promote inclusion, particularly for vulnerable or marginalized groups; and ensure accountability. Legal frameworks should be clear in delineating liability and recourse for individuals and should be overseen by independent regulatory bodies with appropriate powers and consistent funding. They should also protect people against inappropriate access and use of their data for undue surveillance or unlawful profiling. Frameworks require a balance between regulatory and self-regulatory models that does not stifle competition, innovation, or investment. Appropriate legal and regulatory frameworks are also required for cross-border interoperability or mutual recognition. 
Rights of data subjects. Identification services should provide people with genuine choice and control over the collection and use of their data, including the ability to selectively disclose only those attributes that are required for a particular transaction. People should be given a simple means to have inaccurate data corrected free-of-charge and to obtain a copy of their personal data. Personal data should not be used for secondary, unconnected purposes without a person's informed consent, unless otherwise required or authorized under law (for example, as may be necessary and proportionate). Identity providers and other stakeholders should be transparent about identity management; develop appropriate resources to raise people's awareness of how their data will be used; and provide accessible and user-friendly tools to manage their data, provide informed consent, and address grievances. Identity providers should ensure that the initial process to correct errors is administrative rather than judicial in order to increase speed of resolution and reduce costs. Data sharing arrangements should also be transparent and fully documented.  
Institutional mandates. Legislation, regulation, and trust frameworks must establish and regulate comprehensive governance arrangements for identification systems and providers domestically and—if applicable—internationally. This should include specifying the terms and conditions governing the institutional relations among participating parties, so that the rights and responsibilities of each are clear to all.  
Accountability. There should be clear accountability and transparency around the roles and responsibilities of all entities involved in building, operating, managing, and overseeing identification systems.  
Oversight. the use of identification systems should be independently monitored (for efficiency, transparency, exclusion, misuse, etc.) to ensure that all stakeholders comply with applicable laws and regulations, appropriately use identification systems to fulfill their intended purposes, monitor and respond to potential data breaches, and receive individual complaints or concerns regarding the processing of personal data. Regulators should be sufficiently resourced and empowered to discharge their statutory responsibilities.
Adjudication. Disputes regarding identification and the use of personal data—for example, refusal to register a person or to correct data, or an unfavorable determination of a person's legal status—that are not satisfactorily resolved by identity providers should be subject to a rapid and low-cost review by independent administrative and judicial authorities with the authority to provide suitable redress without adding barriers for the individual.
Scope and Definitions
These Principles are intended to apply broadly to the creation and use of identification systems to advance development goals. Because of their central role in realizing individual rights and facilitating access to basic services and entitlements in the physical and digital worlds, the focus of the Principles is on "official" identification systems provided by, on behalf of, or recognized by governments. See the full text of the Principles for more a detailed explanation and examples of the types of identification systems this includes.  
Endorsing Organizations